Talking Shop
| | | | |
| --- | --- | --- | --- |
| Creating Effective Trade Show Graphics | | | |
As summer's heat cools to Fall, we get ready for a new round of trade shows. The easiest and most cost-effective way to update your exhibit is with a new graphic package. Here are some tips for creating effective graphics for your existing booth.
Read more...
An often overlooked source of business for some firms are one off government jobs. Governmental agencies are constantly in need of all the same business services as an corporation or small business entity. Jobs can come from the local, county, state or federal government. Most of these branches have websites or procurement notification systems that can alert you as to when and what type of services are needed at any given time. Suffolk County has a rather efficient notification system that utilizes direct emails and the counties web site to solicit bids on a whole host of goods and services. We regularly monitor these to look for jobs that may be applicable to our business.
Read more...
Here are some tips on installing vinyl on a glass surface (store front windows or car):
Read more...
The spring and early summer has been abuzz with installations. Crews have been out pretty regularly  to deliver/install lobby graphics, window graphics, banners and exterior signs. Sal's Autobody got a few 14 footers this week to cover both sides of their building. Dr Sousa revised his monument sign on two sides. Here's a picture of that one: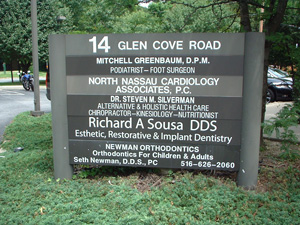 Read more...
| | | | |
| --- | --- | --- | --- |
| Diversity and Testimonials | | | |
In this blog, we hope to give you a little taste of everyday life as part of the exciting world of Jomark Graphics. One of the staff will talk about recent jobs, pass along tips or helpful hints, discuss things relating to our business/industry and hopefully a little insight into what we do and individuals and as a company.

For the first installment I want to discuss two recent jobs that we have produced. When I talk to people about the things we do, they very often are struck by the variety of jobs we execute on a regular basis. I guess that is one of the things that keeps us interested in a career in this particular industry.
Read more...