Pop Up Exhibits
HopUp Display System
The HopUp has a light weight, heavy duty frame that can suspend a fabric graphic mural. It sets up in seconds and can be packed away just as quickly! Available in many sizes! The frame comes with a full fitted front graphic and a bag.
Read more...
Formula One Display System
Vertically curved, 10 foot wide tension fabric graphic structure with molded case. Available accessories making adding a monitor or shelves a snap.
Tension fabric systems are the next generation in large format graphic displays. These light weight systems are highly portable and easy to set up, offering maximum impact with minimal fuss!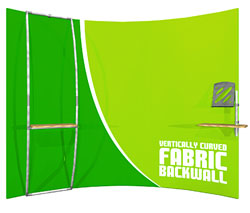 Read more...
PopUp Display System
The popup display system combines strength, reliability and style. It features several unique advantages over other similar Popup display systems, especially its light weight and simplistic ease of use. This popup uses state of the art "Rare Earth Neo Magnets" on both its channel bars and locking/location systems. These make it very quick and simple to erect and take down, with practically no "easy to break" parts. Full display systems are offered in a wide choice of configurations from basic tabletop kits to full 20' long displays. All displays are offered as curved or straight systems, single or double sided and offer the option of combining with either breath taking seamless graphic mural panels or versatile velcro friendly fabric panels
Read more...