Modularé Truss Exhibit System
The quick-ship "off the shelf" tradeshow truss kit that is fully modular and expandable. We offer a wide range of kits for a variety of booth sizes and configurations. Professionally manufactured in the USA, this system will give your next trade show the amazing look of a full custom designed exhibit, but at a fraction of the cost.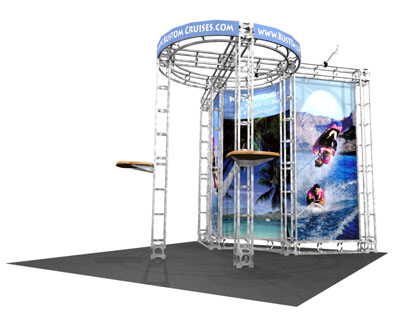 Each kit comes complete with all the parts, fixtures and fittings that you need to build your successful exhibit. But you get much more than the structure. Select kits come with stylish 50 watt, low voltage spot lights and/or adjustable tabletops in two choices of style and finish- textured silver or beech wood. The entire exhibit comes neatly packaged in heavy-duty plastic molded freight cases.
The modularé truss exhibits are completely modular, which allows you to reconfigure it over and over in many combinations that adapt to your changing needs. have the versatility and impact of a "new look" at every show.
The simple, easy-to-use design of our truss systems makes exhibiting trouble-free. Kits are supplied with a full set of color coded assembly instructions.